We have spent the last decade anticipating the "future of work" and now we are living the "future of work". 2020 catalyzed the growth of HRTech solutions with organisations adopting a hybrid workplace format. The HRTech market segment gained strong momentum in the fourth quarter of 2020, and more importantly, it has continued to maintain that momentum well into the first quarter of 2021 (Jan – Mar). The start-up space is thriving with a blank cheque from investors, increased awareness & faster adoption. It is indeed the inflexion point for HRTech adoption!
Q1 (Jan – March) 2021: HRTech
For the first quarter of 2021, we have tracked 80+ deals accruing to an investment of over $2+ bn dollars, across 8 main HR categories:
HRMS
Talent Acquisition
Talent Analytics
Talent Development
Talent Engagement
Talent Management
Talent Operations
Total Rewards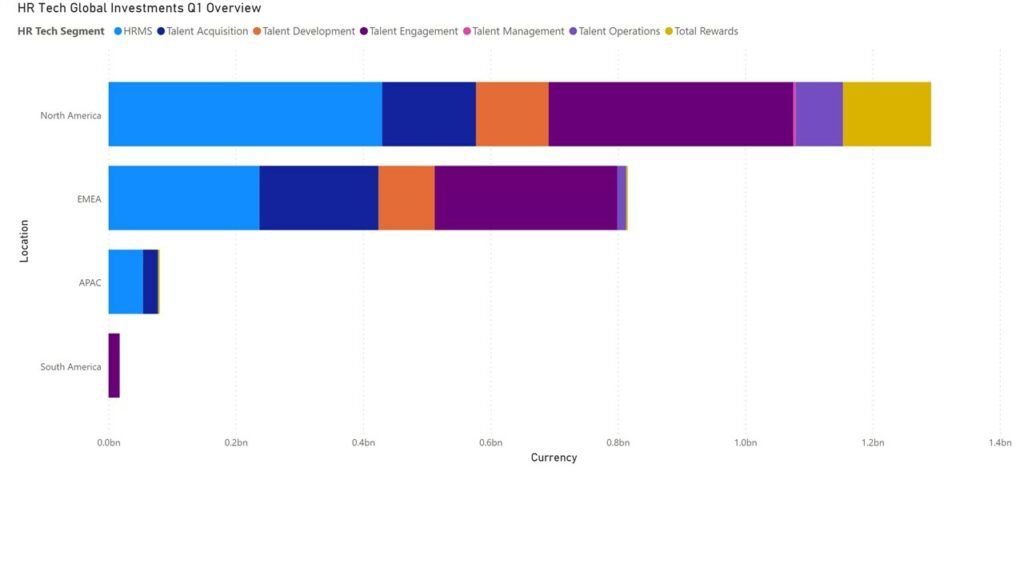 According to our preliminary research, the top 3 trending HRTech segments are:
1. Human Resource Management System (HRMS): As organisations are starting to digitise their HR functions, they are looking to replace their legacy or manual systems with a cloud-based HRMS solution, thereby fueling the growth of investments in this segment. An era of virtual, distributed, and hybrid workforce (comprising full-time, part-time, freelancers, and gig workers among others) is necessitating a fully functional HRMS platform for enterprises of all sizes to ensure seamless HR Service Delivery
2. Talent Engagement (TE) segment continues to attract top dollars in investments (Figure 1) with the spotlight on the following two areas:
3. Talent Acquisition: A strong focus on the freelance market & hourly workers, and background screening is driving the interest for this segment.
With SERIES D & E funding cumulatively contributing to over 36% of the total invested dollars, it indicates the focused interest of investors on mature and proven solutions. The largest investment for the first quarter of 2021 was $270 M into HRMS solution Paycor.

Check out the HRTech M&A Deal Tracker 2021